Read here how to install and remove a radio on the Opel Corsa C D E and how to exchange and install the radio / car radio.
My Opel Corsa C was recently fitted with a radio. I had to change the factory radio and install another radio.
Opel Corsa Expansion of works radio / radio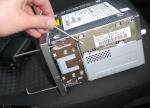 The extension is quite simple. There are Opel double DIN unlocking brackets / Hama unlocking brackets for Opel
to buy. Or you can cut 4 pens out of a clothes hanger (a bit awkward…). Cut a small notch about 5mm before the end. These are inserted into the 4 round openings on the radio. After everything's locked, you pull out the radio.
Opel Corsa Removing the frame when removing the car radio
Radio exchange and installation" width="150″ height="112″ align="right" /
Squeeze the old frame a little, loosen it with a torx at the back and pull it out. Please do not use a screwdriver to change the Opel radio!
For example, there are good small tools (excellent):
Put on the cover when installing the radio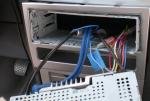 First you should put on the screen. Then push the holding frame of the new radio over it. And then connect the plug and adapter plug to the radio. An Opel Radio adapter plug is available here – important for model 2005 is the Can Bus – that's why they are so expensive :(!
Matching Opel Radio adapter plug with MOST plug and CAN BUS for Corsa
Radio exchange and installation" width="150″ height="114″ align="right" /
My Opel didn't have a DIN plug anymore. But the new MOST connector. There is also a CAN BUS. Means about as much as saving wires. And there's no more ignition plus. So you either have to get ignition plus from where (tilt plug) or you get an adapter for about 50€.
I'm not a friend of Gebatel so there was this: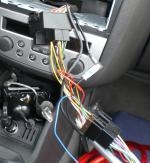 You can see the big plug, various cables and a small module – this converts the signals so that the radio thinks it has an ignition plus.
The part was available at
Opel Radio adapter plugs are available here
It costs a bit – but that's all right.
Now just insert the new radio – done.
Buy useful accessories for Opel Corsa C radio installation – Radio removal / installation
The following Opel Corsa accessories simplify your work:
Car Hifi recommendation for Opel Corsa
You want some good sound for your Corsa, then here are my favorites!
Good car radio recommendation, good:
Stop! Radio bezel, please:
Car loudspeaker up to 80€ recommendation:
Coax loudspeakers. take coax loudspeakers, then you don't have to install and hide any oll crossovers and no small mini loudspeakers in the mirror triangle fumbled (you notice, I do not stand up fumbled 🙂 – at the car of course). And you won't notice that much less sound anyway when the bass bangs in the back. I hope so.
Stop! Stop! You still need Opel Corsa for the speakers, built-in frames:
Loudspeaker rings for Opel models – they don't cost much, but without them the loudspeakers won't sit properly … For 165 loudspeakers you need the 165 loudspeaker adapter OPEL.
Car amplifier recommendation (And if you want some more fuck:):
Magnat 4-channel amplifier – with one 4 channel you have everything you need! 2 channels you bridge for the subwoofer and 2 channels you use for the front! And no, you don't buy 50000 watt cheap brand now, but buy something neat! I listed it extra for you! Magnat's got what it says on it. There you go. And no iron steam from the 10,000-watt cheap brands.
Subwoofer car recommendation, we want something good:
Hifonics BX 12 BP subwoofer, I like the Hifonics design! Sure, there are active subwoofers for the car (there's the amplifier on the subwoofer), there's nothing like a separate subwoofer and amplifier!
Cable sets Car Hifi, (thicker is better):
Dietz 20135 cable set based on 35 mm² , yes costs, but below 30 mm you do not go, otherwise you have Too much power loss! 50 mm thick would be ingenious, but you won't get laid! 20 mm would be fine, you savers, but don't go any smaller, promise me! But bought 10mm? Keep it to yourself!
Good loudspeaker cable (1.5mm cable is sufficient for front speakers – believe me, 2.5mm cables don't bring anything more at the front, except more annoying laying):
phew… that was my mini-list for good Opel Corsa Car Hifi Sound now!
Buy it!
Which books about Opel Corsa can I recommend?
You want to screw, but right? I bought my own Opel Corsa C book for repair Favorit, which I can recommend:
For Opel Corsa D:
href="http://www.amazon.de/gp/product/3768825183/ref=as_li_ss_tl?ie=UTF8&tag=blogfuelbywor-footer-21&linkCode=as2&camp=1638&creative=19454&creativeASIN=3768825183″>This is how it's done. Care – wait – repair: This is how it's done: Opel Corsa D from 10/06: Care – Wait – Repair: Volume 145: Care – Wait – Repair. With circuit diagrams