It was time again
Every year, around mid/late September, the knightly market is held in Bad Münster. From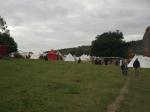 far and wide, historically dressed and armed friends of the medieval hustle and bustle come to the Spetakulum.
I've been here five, six years. Mainly on Fridays, because there is almost always an ingenious medieval group playing.
This time I came on Saturdays.
I didn't go to the knights games. They are really great, but once you've seen them, you're less interested in seeing them a second time.
Nevertheless, I walked with my girlfriend along the shore to the "tent city" and examined the different little tents with their dressed actors. Relaxing interesting atmosphere and varied "costumes" and antiques adorned the campsite.
Then it was the market itself.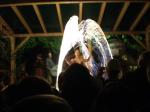 Lots going on
I had been there on Saturdays many years ago, but I could never remember that there was so much going on. The streets are really crowded.
Drunk in a tavern wine, had a lot of fun and an interesting and tasty front plate with liver sausage, blood cuddly, vegetables and bread fed. And honey wine, Riesling and a lot of fun.